Install Matrix Home Server On Kubernetes¶
Preface¶
What is Matrix?
Link: https://matrix.org/faq/#what-is-matrix%3F
So we are about to install a private real time messaging (Chat) server. It can be useful for you if you want to replace Whatsapp, Telegram, FB messenger, Viber, etc, or just want your own messaging server. Or if you don't trust in these services and want a service which focuses on your privacy. Another question is how your partners with whom you want to chat trust your server.
I'm wondering if you have ever thought about having your own messaging server. If the answer is yes, it's time to build one. I hope you will easily achieve this with the help of this article.
Requirements¶
First and most important to have a valid domain name. If you don't have any you can pick up one free from DuckDNS
Installed Kubernets cluster
Public Internet access.
At least 2 GB of free RAM.
I assume you build this server for your family and friends, and don't want to share with the whole World. For some tens of people you don't need to purchase an expensive server, but according to the number of attachments (file, pictures, videos,etc) you may need some hundreds of GB disk space.
Docker Compose¶
Maybe the easiest way to install everything all together is writing a Docker compose file. The compose file below can be used with docker-compose command or as Stack in Portainer. Later in this article we will use this compose file as reference for writing the Kubernetes manifest files (cm, deployment, sevice, pvc, etc).
You can see that we have 3 services:
matrix : The Matrix server
caddy : Web server for use as reverse proxy.

You can use any other web server you like (eg.: Apache httpd, Nginx)
I chose Caddy because it is super easy to configure as a reverse proxy and supports automatic SSL certificate generation and maintenance.

postgres : Database engine.

You can skip this if you want to use the default sqlite engine, but it is not recommended for daily (production) use.
Before you up this compose file create the necessary directories:
Matrix process run as 991 userID and groupID so we need to run chown command:
Generate The Matrix Config File¶
For generating the initial config files please follow these steps:
Inititalize The Database¶
Start the a postgres instance
You may want to check the logs:
You should see the following lines:
Get into the container and create the user and database
Edit homeserver.yaml¶
Inititalize The Caddyfile¶
This will create a minimal Caddyfile example. Actually this command does nothing than copy the Caddyfile from the container to the directory where you are.
Edit this file
You Caddyfile should look like this:
Start Everything¶
We are ready to start the Matrix HomeServer. Save the docker-compose.yaml file if you haven't already do that, and run:
And wait for up condition:
Check your matrix server:
Browser Screenshot: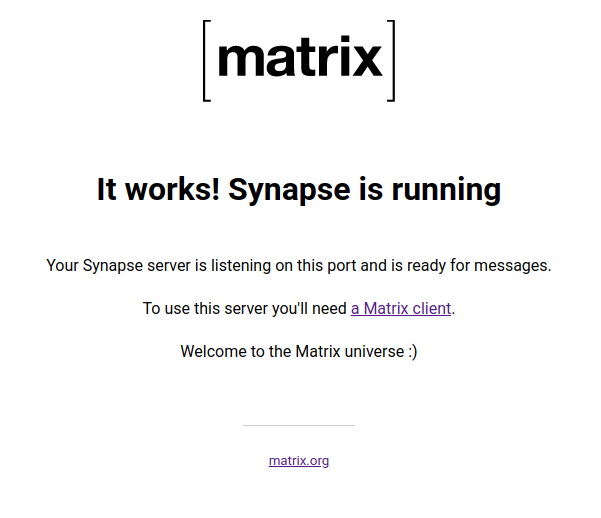 Federation¶
What does federated mean?
In order to the federation work you need to modify the Caddyfile and docker-compose.yaml.
docker-compose.yaml
Caddyfile
You can check if fedearation work or not: https://federationtester.matrix.org
ScreenShot: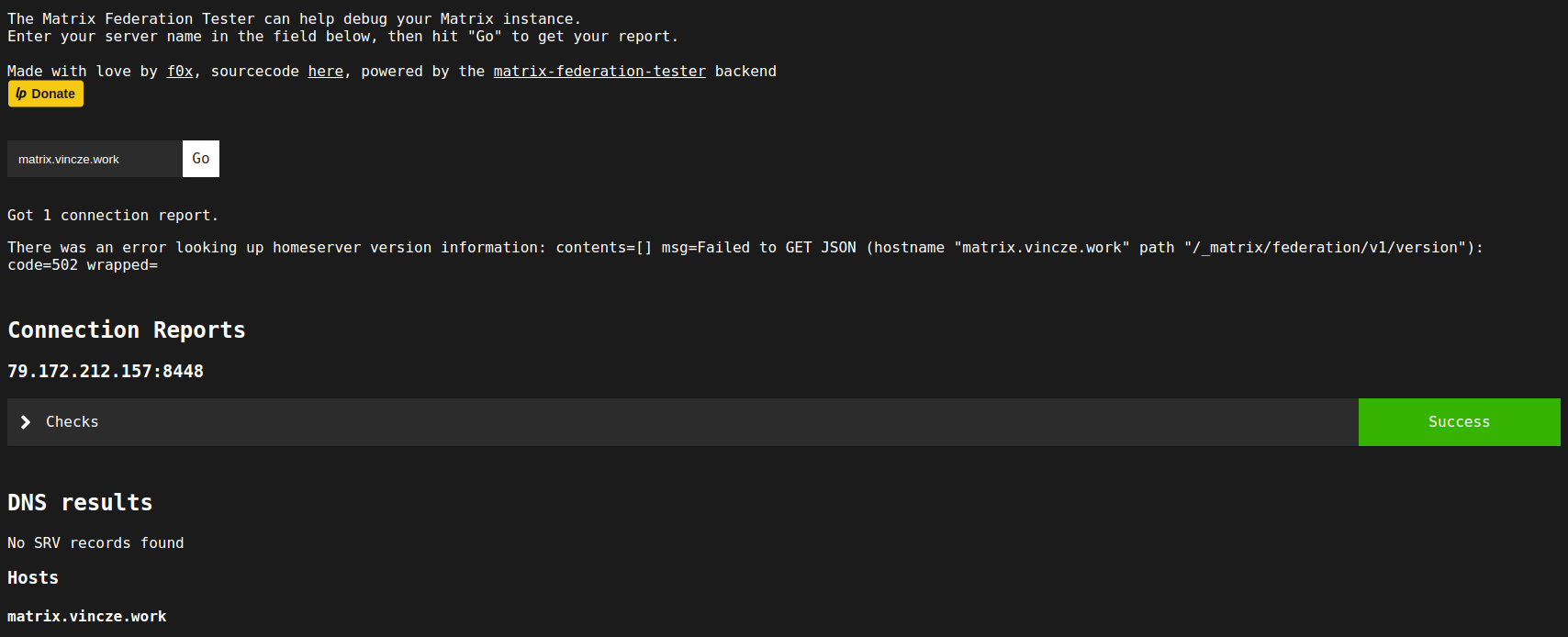 Login¶
We don't have any user, yet. We have three option for registering new users:
Enable registration in the homeserver.yaml (enable_registration: true)
Use the registration_shared_secret.
Or use command line interface inside the container.
I will show the third option: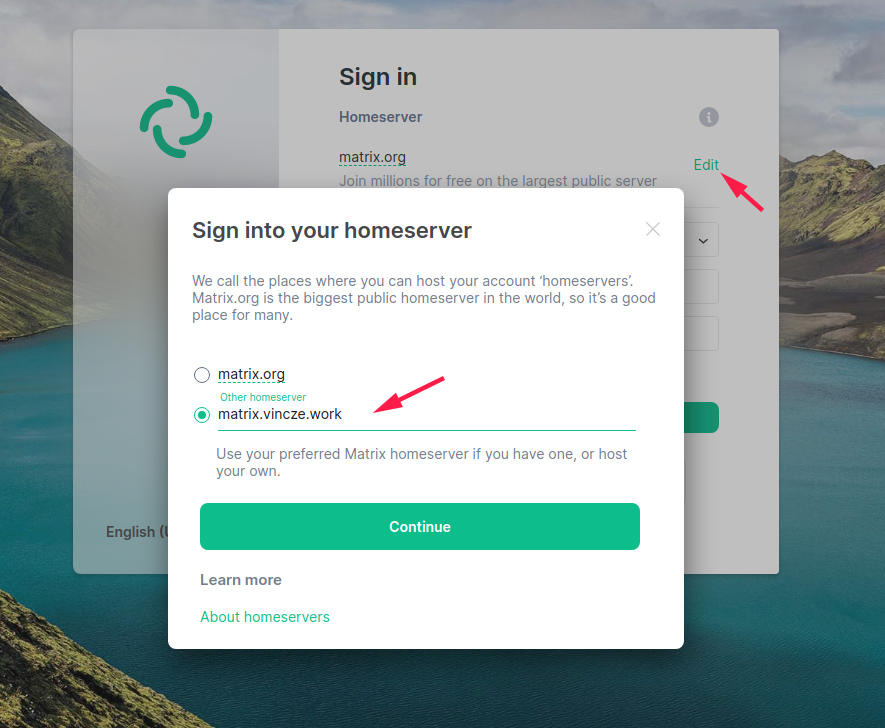 And we are done. We have a fully functional Matrix Homeserver. Of course there are a lot of configurations available in the homesever.yaml, and I recommend going through this file at least once to get to know the possibilities.
We are going to deploy this minimal installation of Matrix to Kubernetes cluster in the next section.
Deploy To Kubernetes¶
Create the namespace¶
Prepare Matrix Configmap & Storage¶
Generate the config files
Create the Configmap & Secret
Download & Apply
Deploy Matrix Homeserver¶
First we deploy the Matrix homeserver without any configuration changes. Later we can update the homeserver.yaml in the Configmap.
Download & Apply
Check The Deployment
Create Service¶
Download & Apply
Check The Service
Deploy Postgres SQL¶
Create The PersistentVolumeClaim¶
Download & Apply
Create Secret¶
This password will be used in the Deployment as the password of the initial user (POSTGRES_USER = matrix).
Deployment¶
Download & Apply
Check The Pod & Logs
Service¶
Download & Apply
Check The Service
Check if the IP address and port of Endpoints are matching the Postgres POD IP address and port.
Connect Matix Homeserver To Postgres¶
Prepare The Databse¶
First we need to create a user and database for the homeserver, just like we did before in the compose section.
Modify The Homeserver Configmap¶
Basically we are done with set up the Homeserver. There is only one thing to do, somehow publish the homeserver to the Internet.
Ingress¶
There are several options for accessing the Matrix Homeserver from the Internet. I don't know your architecture, but maybe you already have an Ingress Controller and a reverse proxy, etc...
I'll show some solutions:
My setup at home looks something like this: *.mydomain.hu --> Apache WebServer (reverse proxy) --> Kubernetes Ingress.

Wildcard certificate installed on the Apache WebSever.
In this setup I need to create only an Ingress in Kubernets and the Homserver immediately becomes accessible.
I recommend using a separate reverse proxy for the incoming connection to Kubernetes. This reverse proxy could be Apache, Nginx, Caddy, etc.

If you don't have separate reverse proxy:
I can't write example for the all available scenario, but I want to post here a working, overall solution, thus I show two examples:
Simple Ingress¶
If you have already a working architecture you may need only an Ingress like this:
Download & Apply
Check Ingress
How Ingress - Service And Deployment Are Related?
If you want to know more about how these three things are related read the following article: https://dwdraju.medium.com/how-deployment-service-ingress-are-related-in-their-manifest-a2e553cf0ffb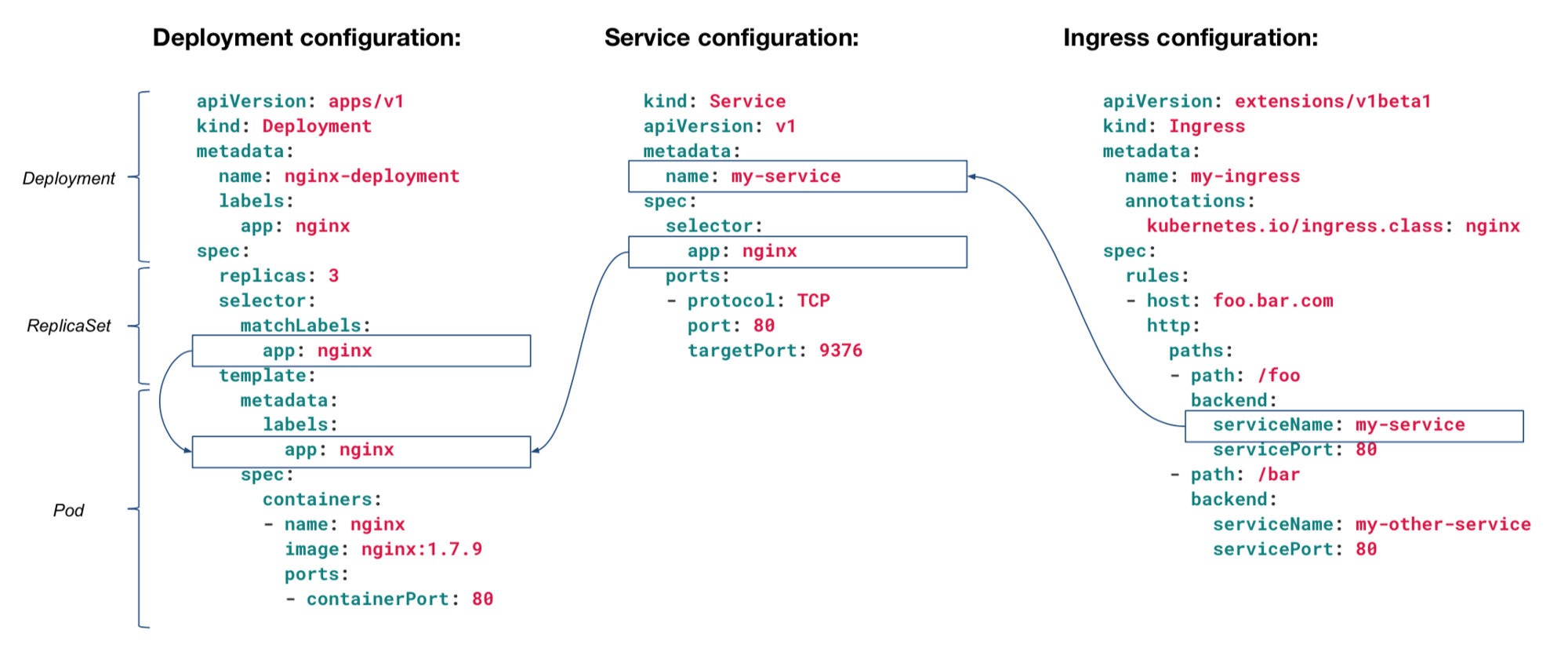 In our case, this the flow:

Cert Manager¶
First I wanted to write about Caddy here, but changed my mind. I think a much more suitable solution is using the Cert Manager.
My first thought was to deploy Caddy, setup as reverse proxy for the Matrix Service, and create an Ingress for Caddy. This would have been similar to what we did in the compose file before. I don't think anybody wants to use Ingress and Caddy in this way.
Documentations:
I'm using Nginx Ingrees Controller for this demo. I won't write here a step-by-step installation about the Ingress controller. If you need detailed documentation please consult the official site: https://kubernetes.github.io/ingress-nginx/deploy/, or see my single node Kubernetes installation article.
Install Cert Manager
Installing cert-manager is really simple, only one command:
For more details visit the official documentation here
ClusterIssuer
We are going to create two ClusterIssuer:
Letsencrypt Staging
Letsencrypt Production
Check:
Create Ingress
That's all! :) If your Kubernetes Ingress accessible from the Internet on port 80 and 443 the certificate issued in some seconds.
Checks
If something is not working as expected, there are some resources you should check.
First check challenges:
You can see that the challenge is in pending state. You can check what could be the problem with the following command:
Example error message:
Check certificaterequests and certificates
Your certificate is stored in this Secret: secretName: matrix-prod-ingress
Final Thoughts¶
I hope this article contains a lot of useful examples, use cases and help you to build your own Matrix Homeserver.
Of course there are any other options to deploy the Homeserver to Kubernetes, the way I showed here contains many useful examples on how to use docker-compose, service, ingress, cert-manager, configmap, secret, etc...
---