Install A Single Node Kubernetes "Cluster"¶
In this article we will install a single node kubernetes cluster on Debian 11 (bullseye). I will walk through step by step all the commands and configurations.
Prerequisite¶
I'm using a really old system for this demonstration:
CPU: Intel(R) Core(TM)2 CPU 6400 @ 2.13GHz (Dell Optiplex 745)
Mem: 4 GB
Disk: 500 GB HDD
OS: Debian GNU/Linux 11 (bullseye)
After successfully installation of my Debian system, install some necessary tools:
(Optional) Change sudoers file:
Add user to sudo group (/usr/sbin/visudo)
Install Container Runtime¶
I always recommend to follow the official installation guide: https://kubernetes.io/docs/setup/production-environment/container-runtimes Everything is well docomented and easy to follow.
Kubernetes will leave Docker support so we will use Containerd as container runtime.
Before you start you may want to check the official Docker installation page: https://docs.docker.com/engine/install/debian/
Install Docker & containerd
Prepare Containerd for Kubernetes
Using the systemd cgroup drive
Edit the /etc/containerd/config.toml file
Fix crictl error¶
Fix:
Reference: https://github.com/cri-o/cri-o/issues/1922#issuecomment-828275332
Install Kubernetes¶
Follow the steps described here: https://kubernetes.io/docs/setup/production-environment/tools/kubeadm/
Installing kubeadm¶
Now we do some extra steps before installing the kubeadm. In the world of Kubernetes it is important to install the same version of kubeadm kubelet and kubectl. So fist we check the avaiable versions:
We won't install the latest version in order to be able to show you an update process as well.
Check the installed version
Init the cluster¶
Check the breif help of the kubeadm init command:
Options
--cri-socket /var/run/containerd/containerd.sock --> We want to use Containerd as container runtime insted of the default docker.
--service-cidr 10.22.0.0/16 and --pod-network-cidr 10.23.0.0/16 --> Really important to size well your internal Kubernets network. Be sure that none of these IP address ranges don't overlap your phisical network, VPN connection or each other. Since this is only a demo system it will be enough about 250 IP address for PODS and Services.
Beleve or not our Single node Kubernetes cluster is almost ready. :)
Check it:
Output looks like this:
It is beutiful, isn't it?
Why my node is in NotReady state?¶
I can say that this behavior is normal in case of newly installed Kubernetes cluster. Check the reaseon:
You can see that the coredns pods are in pending state. These pods are responsible for internal DNS queries inside the Cluster Network. What should be the problem? We don't have any network plugin installed in the cluster....
Links:
As you can see that there are a lot of varions of network plugins. For this little home environment I chose weave: https://www.weave.works/docs/net/latest/kubernetes/kube-addon/#install
It is really simple to install, can be achieved with only one command:
Check again the cluster:
Now we really have a working single node Kubernetes cluster.
Before jump to the next section take a look at the node role: control-plane,master
This means the only node we hava acts as control-plane and master, since we won't have any other worker nodes this nodes must have worker role as well:
But this is not enoguh because the master nodes have taint by default: https://kubernetes.io/docs/concepts/scheduling-eviction/taint-and-toleration/
You can check the taint with kubectl get node kube-test -o yaml command:
Remove this taint:
Post Installation Steps¶
Scale Down The CoreDNS Deployment¶
Remember we have only one node in this demo cluster. It's not neccessary to have multiple instance of our applications, because all of them will run on this single node, and this behaviour doesn't give us any extras.
Change the replicas to 1:
Check
Install Kuberntes Metrics Server¶
In order to get basic performance information about our cluster or pods we have to install Kubernetes Metrics Server:
You probalby will get the following error:
Output:
Edit the deployment kubectl -n kube-system edit deployment metrics-server and add this lint to args:
Check
Install (Nginx) Ingress Controller¶
Maybe this it the most interesting part of this article as for now. You can chose from various ingress controller to install. Check the official documentation for more details:
For this demo I choose the NGinx Ingress Controller. I think it is easy to install and maybe some of your already have experience with NGinx on bare metal. I can't tell you any other news than checking the official docs: https://kubernetes.github.io/ingress-nginx/deploy/
We are going to follow the Bare Metal installation: https://kubernetes.github.io/ingress-nginx/deploy/#bare-metal
Wait for this line:
This is the default installation process. But at this point we have only NodePort service for incomming traffic:
This NodePort means that our NGinx ingress controller is accessible on every node in the cluster on 30016/TCP and 32242/TCP. It is OK if you planning to use these ports to access the applications inside the cluster.
Or you can install a reverse proxy somewehere in you physical network. This can be the Kubernetes host itself. Configuring a reverse proxy could be a pain, and it is not the subject of this article.
Check
To check the NGinx Ingress Controller you should use another machine in your network. Most of the time I use curl to check if web server is running or not, but you can use your browser instead.
This is not the desired stat I want, I want to access my Ingresss Controller over the standard 80(http) and 443(https) ports, so choose the hostPort: https://kubernetes.github.io/ingress-nginx/deploy/baremetal/#via-the-host-network
Check
Deploy An Application And Create Service And Ingress For It¶
For demonstration we deploy a Ghost (blog) instance.
At this point we have a POD running, but we could not access it. First we need to create a Service object.
Check the Service:
The most important thing here is the Endpoints:
The IP address should point to the IP address of the Ghost POD:
The last step is to create the Ingress object.
The yaml file:
Apply the yaml:
Check the ingress
Check With curl
DNS Entries¶
The above example works only if you overwrite the HTTP Host header with 'Host: ghost-test.example.local'. This is because the ghost-test.example.local domain name does not exist. At this point we have to decide how to manage the DNS. The Kubernetes Igress works the best if we have a wildcard DNS entry. I don't want to get deep insude the DNS problem, but give you some tips:
If your home router support static DNS entries you can define one, for example: *.k8s.test.local. My Mikrotik router has this function, so I can easily create a local wildcard DNS. Example /ip dns static add address=172.16.1.214 regexp=.k8s-test.loc
You can use your existing domain, or buy a new one. For example I have vinczejanos.info domain registered at Godaddy. I can add a wildcard DNS record which points to the IP address of the Kubernetes machine. (*.local.k8s.vinczejanos.info) Be aware that this can be a security risk, everybody on the public Internet can resolve this host name, and it points to a private IP address.
You can set up your own DNS server. Maybe the easiest way is the DNSMasq, but Bind9 can be also a good alternative. (Bind maybe a bit robust for this purpose.) In this case you have to configure all of your clients to use the new DNS server.
Since this is only a demo environment, a suitable solution can be to use your hosts file, but keep in mind that hosts file doesn't support wildcards, so you have to specify all host names one-by-one. The hosts file must be updated on all the host from where you want to access your Kubernetes Cluster.
Example

Hosts file location:

Linux: /etc/hosts
Windows: Windows\System32\drivers\etc
Now, we have a fully functional Single Node Kubernetes Cluster.
Install Kubernetes Dashboard¶
Link: https://kubernetes.io/docs/tasks/access-application-cluster/web-ui-dashboard/
Check if the pods are fine.
Create An Ingress¶
Check The Service
The Ingress yaml
Apply the ingress:
Now I can access the Kubernetes Dashboard at https://dashboard.k8s-test.loc
The Token¶
When you see the login screen, you are asked for the token or kubeconfig file. I choose the simpier way and use token.
Create the token:
Get The Token
Fix Permission¶
You will see a lot of error message like this:
Screenshot: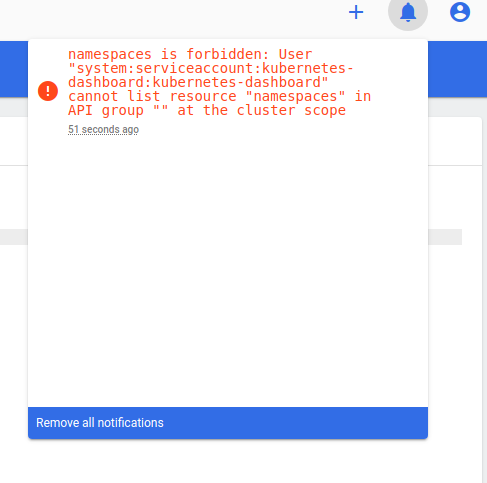 I don't want to bother with roles and rolebindigns at this article. I want quick win, so edit the kubernetes-dashboard ClusterRole.
And modify:
It should look like this (kubectl get clusterrole kubernetes-dashboard -o yaml):
CheatSheet¶
Finally I write here some command I'm using in daily basis.
List And Delete Completed PODS¶
When a Job finishes it's work, the container is left as Completed. A lot of PODS in Completed statw can be disturbing, and they can be safely deleted.
List:
Delete:
Check Container Logs¶
Get Into The Container¶
Sometimes you need to see what happens inside a container. In this case you can get a shell inside the container.
Pending PODS (nginx ingress)¶
Example:
Events:
The problem: 0/1 nodes are available: 1 node(s) didn't have free ports for the requested pod ports.
NGinx Ingress Controller (the POD) uses hostPort, and RollingUpdate strategy. This means that Kubernetes tries to start a new instance, and after the new instance is Running and healthy stop the "old" one. But in this case it is not possible because two container can not bind the same ports (80,443).
The easiest way to solve this is to delete the old pod manually. ( ingress-nginx-controller-745c7c9f6c-m9q5q )
Permanent solution could be changing the strategy to ReCreate.
Show pretty print Json
Reference:
Get All / All Namespaces¶
Print Join Command (Add Worker Node)¶
Get All Resources / Get Help¶
Copy Dir / File From Container¶
Warning

kubectl -n default cp ghost-test-66846549b5-qgcl8:/var/lib/ghost . <-- This will copy the conents of the directory. If you want to create the 'ghost' directory on the destination use:

kubectl -n default cp ghost-test-66846549b5-qgcl8:/var/lib/ghost ghost
---